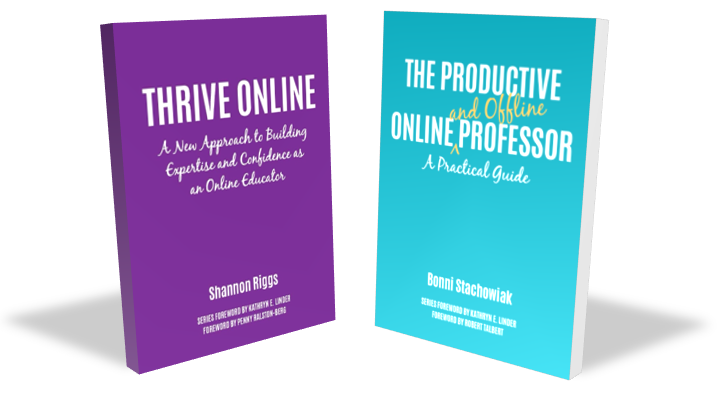 About the series
The Thrive Online Series is focused on the needs, interests, and the best practices of online educators with the ultimate goal of helping them to better serve online students. The contributors to the Thrive Online Series are fearless, committed thought leaders who have embraced the online education landscape and believe in not just the future of online instruction, but also the now and how of online teaching and learning.
The time has come to change the conversation about online education. Add your voice – join the community and #ThriveOnline.
About the books
Each book in the Thrive Online will focus on one or more of the following knowledge bases:
Tools: What are the software packages, apps, social media platforms, learning management system features, and other tools that online instructors are finding to be most helpful to student learning? What tools will stick around for the long haul? Which are worth investing in and which are passing trends?
Techniques: What techniques from face-to-face learning transition well to the online classroom? Which transition poorly? What new techniques need to be applied to online learning? What kinds of risks should online instructors take with attempting new techniques to support student learning? What techniques should online instructors be training their students to use?
Theories: What pedagogical and andragogical theories work best in the online environment? How does ADDIE and backward design work in practice? Are there new course design or pedagogical theories that are currently in development? What traditional and cutting edge theories are most important for the future of online education?
Habits: Online instruction requires juggling a lot of balls in the air at once. What are the habits that those teaching and administering distance courses and programs need to be successful? Are there time management or strategic planning habits that can improve the professional lives of online instructors, and thus the learning experiences of distance students?
Strategies: What strategies for areas such as organization, file management, pitching new courses, course design and program development are helpful for beginning and experienced online instructors and distance education administrators?